"Players" are those who create and present live performances on UpStage. To be a player, you must first create an account on an UpStage server. This might be the public UpStage, or you may be at a university, school or arts organization that has its own UpStage instance where you can create an account.
You will begin at the Foyer, which is the home page of an UpStage instance. As well as information and links to events, in the top right-hand corner are two buttons: "Login" and "Register".

Note that you only need to have an account if you wish to create and participate in performances as a player. Audience members don't need to log in.
Create an account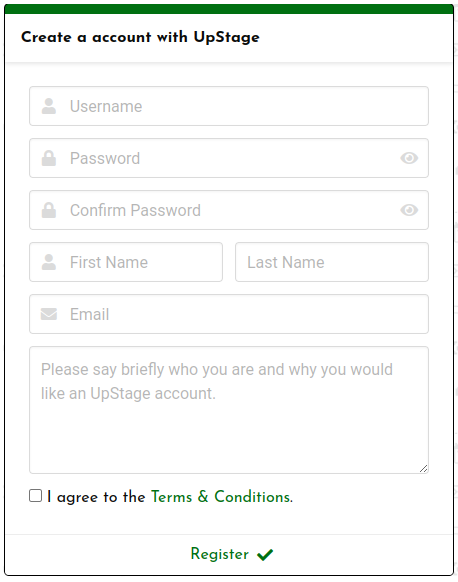 When you click on "Register" a pop-up window opens where you can enter your information to create an account. Your registration must be approved by an administrator of this UpStage instance before you're able to have player access to the Backstage and Live Stage parts of the platform.
To create your account:
Click on the "Register" button on the Foyer and fill out the form that appears.
Username: the user name you choose will be displayed in the chat and statistics, visible to both players and the audience.
Password: keep it safe.
First name and last name: write your first and last name here
Email: enter your email address.
Please say briefly who you are and why you would like an UpStage account
Terms & conditions: you must agree to the terms and conditions of service in order to use the platform.
Click "Register" to complete your registration.
Note: your email address may be used by administrators to contact you about upcoming changes, scheduled maintenance, etc. It's also used in the event that you find yourself locked out of your account. If you're registering on the public UpStage, your information will never be shared with any third party or used for solicitation or advertising purposes.
If you're on a different UpStage instance to the public UpStage, the terms and conditions of service may have been adapted by the host organisation; the administrators of that UpStage instance are responsible for the security of your data.
Log In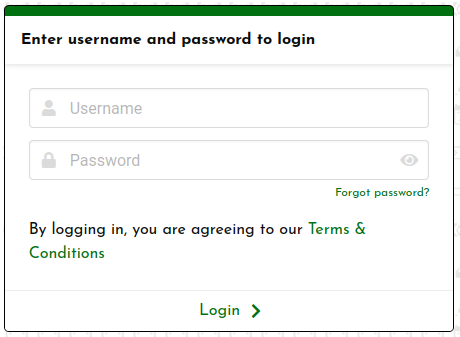 Once your account has been approved by an admin, you can log in to the Studio to prepare your cyberformance. Click on the "Login" button at the top right of the Foyer.
Enter the nickname you entered when registering and your password, and click on "Login".
You'll arrive at the Stages section of the Studio. Please go to the next chapters for more information about the Studio sections.