Players with Admin status can access the Admin section of the Backstage. This is where new player registrations can be approved, existing player accounts managed and the Foyer customised. In the future there may be more features added here.

Player management
Admins can see a list of all players who have accounts on this UpStage instance, including their email address and the date they registered their account. From this list, Admins can:
activate or deactivate individual accounts
change the role of a player (see below)
increase a player's upload limit (the default is 1MB)
edit a player account, to update their email address
reset a player's password
delete a player account.
Roles
UpStage accounts have one of four roles: Guest, Player, Admin, and Super Admin. Each has a different level of permissions.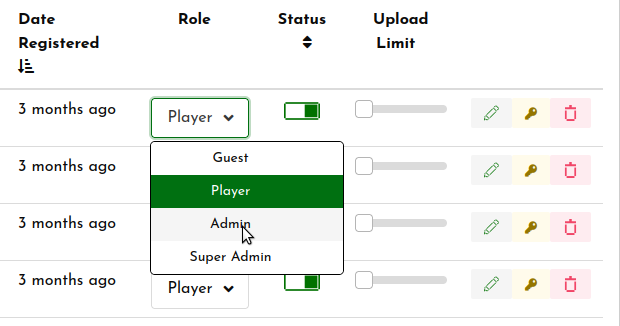 Guest
Guest accounts are for use by people who do not have their own player log-in and may not want to have one, for example in workshops or demonstration situations. Logging in with a Guest account allows you to access and operate the on-stage player tools of the stage or stages that the Guest account has been given access to. Guest accounts do not give access to the Backstage.
Player
Players can log in to UpStage, create stages, upload media, and perform on stages that they have created or been given access. Players can update their email address and change their password in their profile.
Admin
Admins are players with additional permissions. They can customise the Foyer and access the Admin section of UpStage, where they can approve new player registrations and undertake other player managment such as increasing a player's upload limit or changing a player's role.
They have full powers in the Backstage, which means they can view, edit or delete all stages and media, not only their own. They do not automatically have player access to stages that they have not been given player access to.
Super Admin
This role is usually held by the person who has installed and configured a specific instance of UpStage. As well as all of the permissions of other roles, they can make other players into Admins and do back-end configuration of the instance. This person may be a systems administrator rather than an artist-player.
Batch User Creation
This feature of the Admin section allows Admins to quickly create multiple new users without needing an email address for each user. This is useful for temporary log-ins, such as in a teaching or workshop situation where participants may not intend to keep using UpStage.